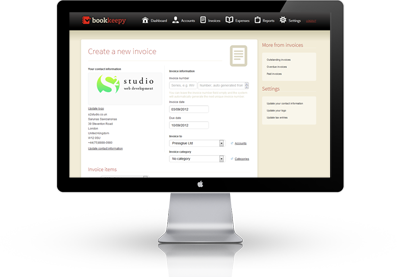 Portfolio - bookkeepy
Visit at: Bookkeeping software online for the Self Employed
Web-based bookkeeping software for the Self Employed that makes it easy to manage clients, invoices and expenses from anywhere.
Easily manage your clients, invoices and expenses in one place, from anywhere. Keep up with your bookkeeping in the office, at home or on the go with your mobile device.
bookkeepy is a web-based software and all uploaded files are stored "in the cloud". It means there is no software to install. We host it and take care of all the updates so you can focus on your bookkeeping and your business.
File storage is directly synced with Rackspace Cloud hosting, email messages are processed using Sendgrid mail API and payments are processed using PayPal API.
It is a great application for the Self Employed or small businesses and is available for as low as a coffee cup price. Sign up for free and no long term contract is required to upgrade it. Check it out!
Built using